Monday September 20, 2021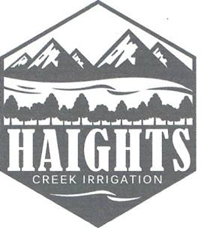 820 E 200 N
Kaysville UT 84037
Dear Shareholder,
Haights Creek Irrigation and Weber Basin Water Conservancy District has reviewed the current drought situation and water supply. We have concluded, for this season, to terminate the irrigation water for secondary and agricultural users on,
Monday September 20, 2021
It is projected only next year's culinary water supply will remain in the WBWCD's reservoirs. We hope for a better snow pack this upcoming winter to take us through next year's water season.
We appreciate your understanding.
Update on the Eagle Way Bogey Dr shut off. We had the broken line fixed and discovered a homeowner had opened a different Haights Creek valve and broke that valve as well. We have spent the day fixing this but as with the original break, we have to use glue to correct this break. We anticipate the water to be back on Saturday morning. 
The area of Eagle Way and Bogey Dr has a break in the Haights Creek line. We have had to glue the line. Water should be back in service Friday morning.
Water is off in the 1st So to Center Street area, 6th E to 760 E area. Flooded basements. Homeowner water line break with no personal valve. Water will be back on as soon as repairs are made.
We are slowly starting to pressurize the system back up. We have an issue with an area around Center Street over to 250 S – 55 E up to 850 E. A line has been repaired and the glue needs to dry. This area will be charged back up tomorrow mid-morning. Thank you for your patients. 
UDOT has poured cement to secure thrust blocks that have been installed for Weber Basin Water. This cement has to dry. They have told us the water should be on later tomorrow Wednesday the 12th.
One of Haights Creeks' major water lines that cross Hwy 89 has been shut off due to Hwy 89 construction. The water is off in most of North, Central, and East Kaysville, and a section of Fruit Heights. UDOT is working on this issue. We have not received a timeline on when this will be back on. We will update this site as soon as we know. Thank you for your understanding of the ongoing efforts of improvement to the area.
Filed Under: Water Shutoffs
Water shutoff in cul de sac 550 S 1350 E in Fruit Heights. We hope to have service restored by Monday afternoon.